Takram Omotesando
The new office, "takram Omotesando," is set in an existing office building with an irregular floor plan; an imperfect nine-square grid. takram's daily operation and spatial usage change constantly and therefore it was imperative that the office space allow flexibility and dynamic interaction. In the center of the office lies "the core," which literally serves as a heart and hub of the office and is lined on three sides with sliding glass doors and translucent organza curtains. These two layers of visual and material filters can be adjusted depending on what is occurring in multiple nodes.
Materiality of takram's new office embodies the spirit of experimentation to promote new discourses and working style within the design community. In contrast to the white and wooden palette that demarcate our comfortable working space, anodized aluminum floor exhibits their extroverted, cultural ambitions. The curtain fabric was installed to protect information security. The areas with low security level have double-layered organza to blur the scenery, and high security areas have triple-layered organza to only allow silhouettes to appear. The sliding glass panels and curtains between the core and the foyer square can be pulled aside to facilitate workshops, lectures, and events with the maximum capacity of 100 people.
Ongoing Experimental Space
takram Omotesando office itself is an ongoing experiment with space, materiality and programs. It is an unending project, an ever-incomplete space for experimentation. takram welcomes proposals for new programs utilizing our space, and we look forward to collaborations with a variety of creators to experiment with furniture design, spatial design, lighting design or art installations to name a few.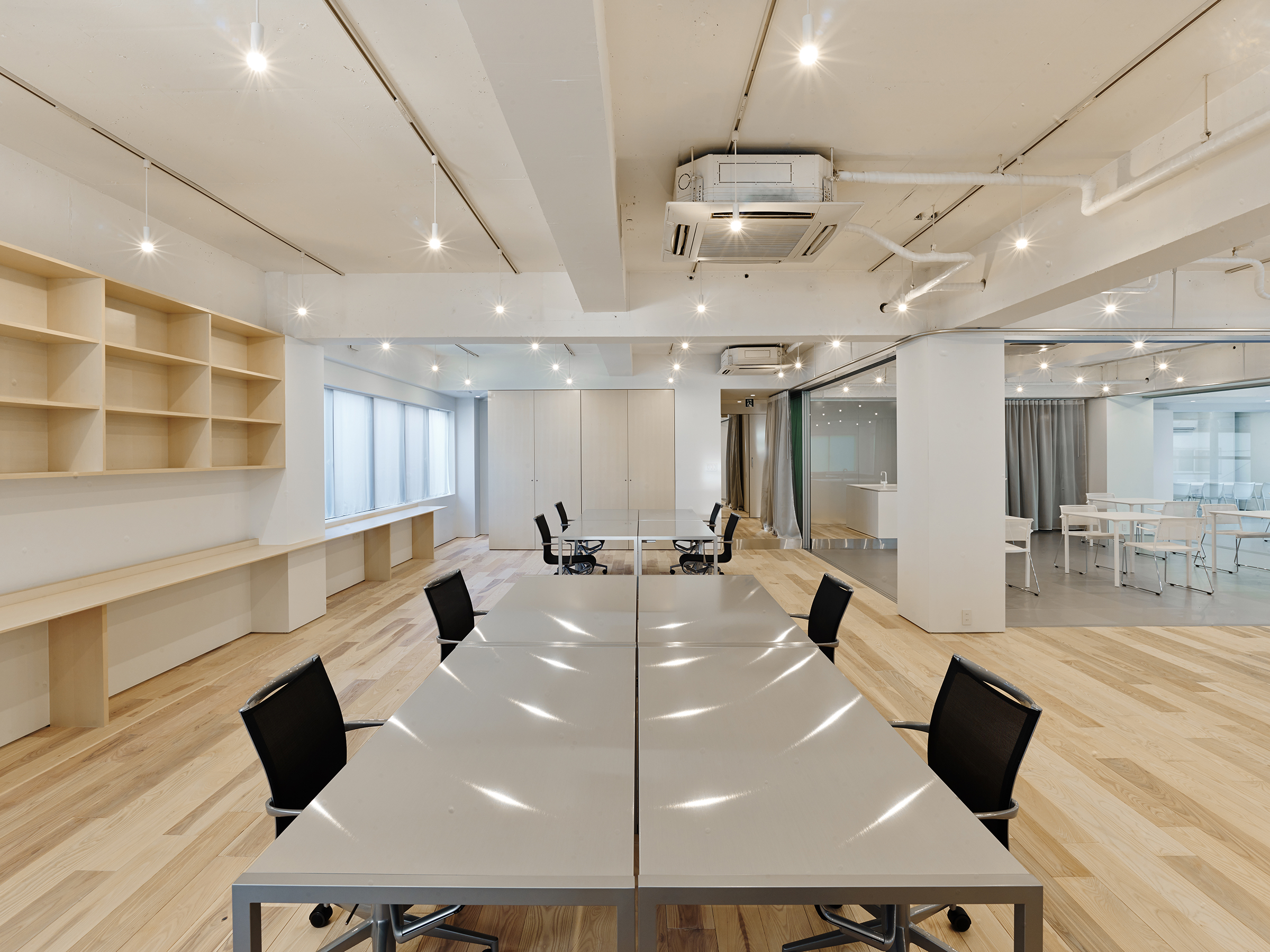 (Photography : Daici Ano)
In collaboration with :
Space design :
Takram (Kinya Tagawa, Kotaro Watanabe)
,
Kaz Yoneda(ex-Takram)
,
Takeo Minato
Textile design :
Yoko Ando Design (Yoko Ando)
Furniture Design : KOKUYO
>LAYOUT Interview〜中心空間"コア"によりパブリック/プライベートを流動化させるtakramのオフィス
>商店建築2014/4 オフィス空間アイデア集
>『takram design engineering|デザイン・イノベーションの振り子』(現代建築家コンセプトシリーズ)